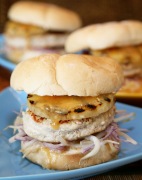 Ingredients
1

Perdue® Turkey Burger

1

Pineapple ring

— grilled

1/2

c.

Bean sprouts

1/2

c.

Sweet onions

— shaved

1

oz.

Citrus Mango Mayonnaise

1

Sweet Island style bun

1

c.

Mayonnaise

1/4

c.

Orange Marmalade

1/4

c.

Mango Chutney
Instructions
Big Island Turkey Burger Place a frozen turkey burger on a flat or chargrill. Grill until burger is 165°F.
Toast the bun and place 1/2 oz. of Citrus Mango Mayonnaise on the heel and crown of bun.
On the heel, add the grilled pineapple and shaved onions, then the turkey burger.
Top with the bean sprouts and add the bun crown.
Citrus Mango Mayonnaise Combine Mayonnaise, Orange Marmalade and Mango Chutney and refrigerate.