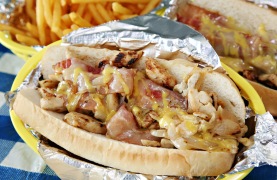 Ingredients
4

oz.

chicken strips

— cooked

1.5

oz.

Caramelized Onions

2

pc.

cooked bacon

2

slices

provolone cheese

1

6-inch Sub roll

1

oz.

dijon honey mustard
Instructions
Grill or toast the sub roll.
Grill the chicken strips and caramelized onions to a heated temperature of 165°F.
Top the grilled chicken strips and onions with crisp bacon, then with Provolone cheese. Cover with a lid to allow cheese to melt.
While cheese is melting, coat each side of the toasted sub roll with dijon honey mustard.
Lift the grilled chicken strips, caramelized onions, bacon and melted Provolone cheese and set into the toasted roll.
Wrap and/or serve immediately.