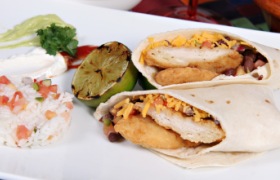 Golden Fritter Burrito with Fiesta Rice
Servings: 10
Serving Size: 3 tortillas
Ingredients
30

Tenderloin Fritters

30

12-inch Flour Tortilla

20

oz.

Black Bean Salsa (tomato, black beans, red onion, garlic, lime, cilantro)

10

oz.

Shredded Cheddar

10

oz.

Guacamole

10

oz.

Sour Cream

1

Red Pepper (Small Dice)

1

Red Onion (Small Dice)

2 1/2

c.

Long Grain White Rice

1

tbsp.

Garlic

— minced

2

tbsp.

Cilantro (chopped)

1/4

tsp.

Cayenne

1/4

c.

Green Onions (chopped)

5

c.

Chicken Stock

2

tbsp.

Butter
Instructions
Deep fry fritters 3-5 minutes @ 350ºF or to an internal temperature of 165ºF.
Steam the tortillas until they are very easy to fold. Spread the guacamole and sour cream across the middle of the tortillas. Layer the fritters, cheese and salsa atop the condiments and proceed to roll up in a traditional burrito fashion.
To make the rice, saute the red peppers, onion and garlic in butter over medium heat. Once the vegetables start to become soft and translucent, add the chicken stock and rice.
Bring to a boil, and then reduce to a simmer, cooking until the liquid is absorbed and the rice becomes tender. Once the rice is cooked, mix in the chopped green onions, cilantro, and season with salt, pepper and cayenne. Serve on the side.