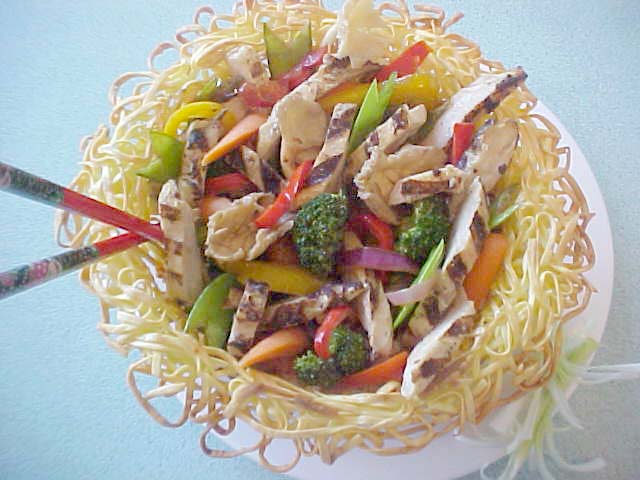 Pan-Asian Chicken Stir Fry
Ingredients
8

Grilled marked fajita strips

(4 oz)

5

tbsp.

vegetable oil

1

lb.

Fresh Egg noodles

1/4

tsp.

salt

1

Egg

— beaten

1

tsp.

Toasted Sesame oil

2

Each

tbsp.

garlic and ginger

— minced

2

c.

Broccoli florets

— steamed

1/2

lb.

green onions

— cut in 1 1/2

8

oz.

oyster mushrooms

1

Each

c.

yellow and red pepper

— strips

1/2

Each

lb.

snap peas and baby carrots

— steamed

1/4

c.

dry sherry

2

tbsp.

soy sauce

4

tbsp.

cornstarch
Instructions
Noodle Basket:
Preheat oven to 375º F. Prepare noodles according to directions and drain.
Add the remainder of the vegetables and toss until well coated with the sauce and heated through. Serve in the pasta bowl with some chopped cilantro as garnish.
In a large bowl, combine egg, 2 T. cornstarch, 3 T. oil and salt. Add cooked noodles and toss until evenly coated.
Using a 7" flat-bottomed strainer or sieve, spray outside with cooking agent. Place open side of strainer down on parchment lined baking pan.
Arrange noodles in a criss-crossed pattern over strainer, covering sides and bottom, and allowing some to extend onto parchment.
Bake approximately 20 minutes until golden brown and crisp. Allow to cool before removing basket from strainer and transferring to serving plate.
Stir Fry:
Heat the sesame oil up in a large sauté pan over medium heat. Add the Garlic and Ginger to the pan and start to render.
Next, add the green onions, mushrooms, and the peppers, sauté for 3 minutes.
Remove the pan from the flame and deglaze with the sherry. Once the sizzle has died down, put back on the flame and add the soy sauce.
Once the liquid comes back up to a boil, add a little of the cornstarch to thicken the sauce.