Honey Jalapeño Lacquer Roasted Chicken is soaked in Southern sweet tea brine and glazed with jalapeño-steeped honey syrup.
In a world of global flavors, the beloved, traditional ingredients of Southern cuisine can fuel the passion of a chef.
A chance to update Southern classics lured Eric Gabrynowicz from the big-name kitchens of New York City to bucolic Asheville, N.C., home base of Tupelo Honey. There he puts an imaginative spin on the region's outstanding proteins and produce as executive chef and vice president of culinary at this group of 14 upscale-casual restaurants pleasing patrons from the Carolinas to the Rocky Mountains.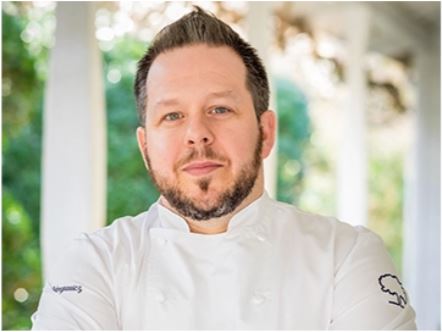 Tupelo Honey Executive Chef Eric Gabrynowicz
Why move to Asheville? The answer is part lifestyle, part opportunity. Nestled in the Blue Ridge Mountains, it offers a wealth of outdoor recreation, a great family atmosphere, and an abundance of farmers and food artisans. In career terms, it made him the culinary trailblazer of a respected, growing chain.
It may be an unlikely home for a New York chef, but Gabrynowicz has esteemed Southern cooking since his days as a young culinarian in Danny Meyer's lauded Manhattan restaurants.
On the opening team of Blue Smoke, Meyer's pioneering Southern barbecue spot, he soaked up the lore of legendary pit master Mike Mills. "I became absolutely enamored with the culture of Southern food," he says. As sous chef of the iconic Union Square Café, he honed his skills at market-driven, seasonal cuisine and pocketed four James Beard Award semifinalist nominations. 
Union Square's then-executive chef Carmen Quagliata gave him valuable advice. "He told me that it's not knowing what to add to a dish, it's knowing when to stop," says Gabrynowicz. That influenced the Tupelo Honey style of restrained, simple, scratch preparation using high-quality center-of-the-plate proteins from the best manufacturers.  Premium, no-antibiotics-ever chicken, pasture-raised beef and sustainable fish speak to the growing number of consumers that demand food that is delicious, clean and sourced from humanely treated animals. Many also believe that such products taste better.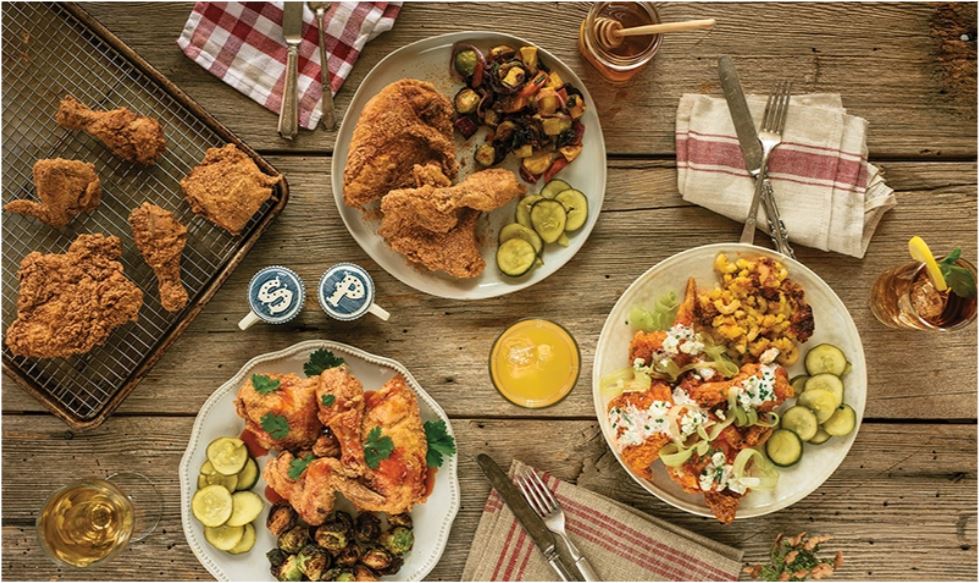 Three Tupelo Honey riffs on fried chicken: Honey Dusted, Sweet & Sour (with sriracha honey) and Bleu Buffalo (with Buffalo hot sauce, bleu cheese crumbles, shaved celery).
Updating a classic dish means giving it one small tweak. "We can add an ingredient or a technique that the Southern grandmother will approve of or overlook and the foodie will find exciting," says Gabrynowicz. An example is cooking pork butts confit-style rather than the region's omnipresent smoking. Another is sprinkling fried chicken with "bee dust," Tupelo's proprietary granulated honey spice mix. Roast chicken gets a sweet-piquant profile from soaking in Southern sweet tea brine and lacquering with honey syrup steeped with jalapeños.
Menu items dubbed "forever free" of antibiotics and hormones are "right in the wheelhouse" of diners, Gabrynowicz says. Count him in as well: "I eat at Tupelo once a week with my family because I care about what I put in my kids' bodies."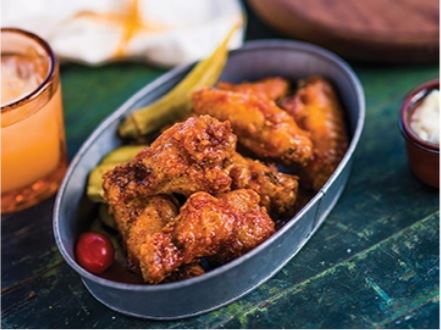 Honey Chipotle Wings showcase a pepper that's unexpected in Southeastern cooking.
PERDUE® HARVESTLAND® chicken is a philosophical fit for this mission. It gets no antibiotics ever, is fed a 100% vegetarian diet with no animal by-products, and never receives hormones or steroids.* In addition, it's raised by family farmers following the Perdue high standards of responsible animal care. The company is ranked in the top 15% globally by the Business Benchmark on Farm Animal Welfare.
"I fell in love with the opinionated nature of Southern regional cuisine and the passion that it inspires," says Gabrynowicz. "I'd like to think that I'm Southern by fire now."
*Federal regulations prohibit the use of hormones or steroids in poultry. Photos courtesy of Tupelo.