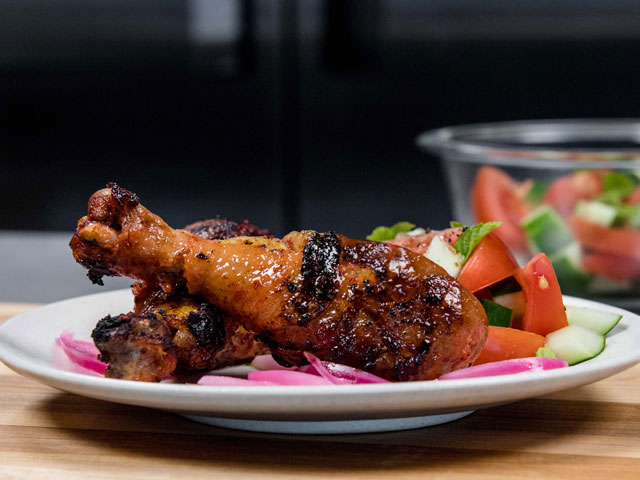 Ingredients
Ingredients for Chicken
24

PERDUE® HARVESTLAND® TENDERREADY® FC Sous-Vide Chicken Drumsticks

6

c.

Greek yogurt

3

tsp.

salt

3

tsp.

garlic powder

3

tsp.

onion powder

3

tsp.

ginger, ground

3

tsp.

sweet paprika
3

tsp.

tumeric, ground

3

tbsp.

garman masala

3

tsp.

cayenne

2

tbsp.

red food coloring

1 ½

tsp.

yellow food coloring

3

lemons, juiced, strained
Ingredients for Salad
¾

c.

pickled red onion, julienned

3

English seedless cucumbers, large dice

6

vine-ripened tomatoes, large dice

¾

c.

mint, leaves picked, rinsed, dried, chopped
Instructions
Instructions for Chicken
Place a large cast-iron skillet under a preheated broiler. Let sit for at least 4 minutes.
Combine all ingredients. Dip chicken legs in the marinade. Put onto hot skillet and place back under the broiler, charring the chicken.
Instructions for Salad
Combine all salad ingredients together and serve with chicken.