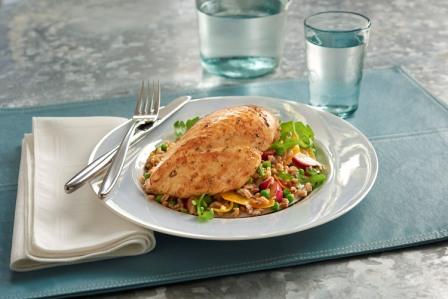 HARVESTLAND® Organic Chicken Breast with a Warm Spring Bulgur Salad
Ingredients
1

qt.

Baby arugula

4

tbsp.

Butter

— room temperature

3

c.

Carrot

— shaved

1 1/2

c.

English peas

— blanched

6

c.

Bulgur

— cooked

2

c.

Radish

— quartered

1/4

c.

Shallots

— minced

12

HARVESTLAND® Organic Chicken Breasts

Salt & Pepper

to taste
Instructions
Preheat oven to 350ºF.
Season HARVESTLAND Organic Chicken Breasts with salt and pepper.
Roast in oven for 12-15 minutes until an internal temperature of 180ºF is reached.
In a large rondeau over medium high heat, add the butter and shallots, and cook for 2 minutes
Add the carrots and radish and cook for an additional 2-3 minutes, until the carrots soften.
Add in the bulgur and peas, stir until warmed through and season with salt and pepper.
Prior to serving, allow the chicken to rest for 8 minutes. Toss the baby arugula in with the bulgur and serve.