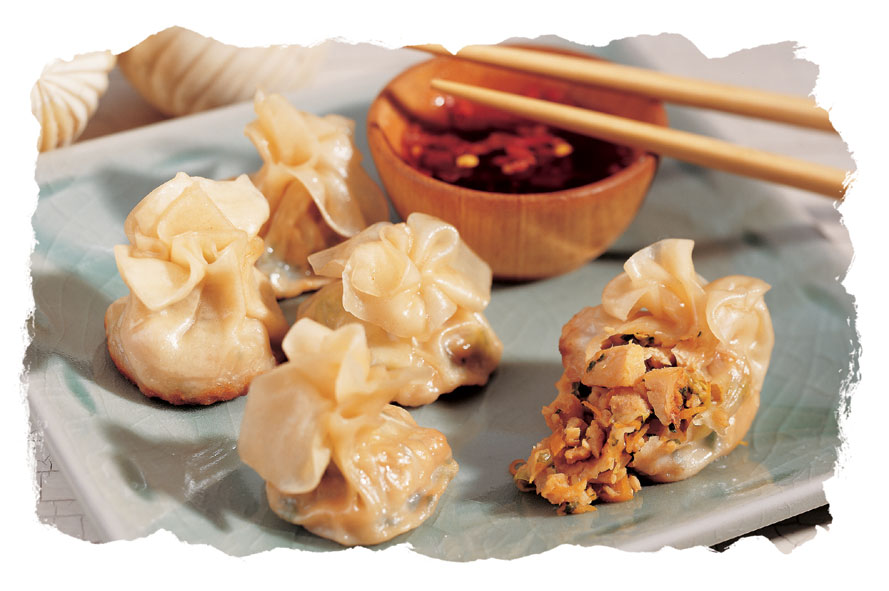 Ingredients
2

c.

Perdue® Natural Pulled Turkey Meat

1

c.

Chinese Cabbage

— chopped

1/2

c.

Waterchestnuts

— chopped

1/3

c.

Carrots

— shredded

1/3

c.

Green Onion

— sliced

1/4

c.

Cilantro

— minced

3

tbsp.

Soy Sauce

3

tbsp.

Dry Sherry

1

tbsp.

Garlic

— minced

2

tsp.

Ginger

— minced

1

tbsp.

Thai Hot Sauce

36

Wonton skins

1

tbsp.

Cornstarch

— as needed

1

tbsp.

White vinegar

— as needed

Lemon Grass

— chopped
Instructions
Combine turkey, Chinese cabbage, waterchestnuts, carrot, green onion, cilantro, soy sauce, sherry, garlic, ginger and hot sauce.
For each wonton, square wonton skin with one straight edge toward you. Spread 1 tsp. of filling in center of skin. Gather up all four corners to center and pinch with fingers to form a pouch. Repeat with remaining skins and filling.
If preparing wontons ahead, store on pans lightly sprinkled with cornstarch.
Place 1 Tbsp. oil into non-stick sauté pan. Lightly brown bottoms approx. 2 min.
Add 1/2 cup water. Cover quickly and steam 4-5 min. or until skins are slightly translucent. (Prepare in 2 batches for best results.)
Serve hot with white vinegar garnished with lemon grass for dipping, if desired.