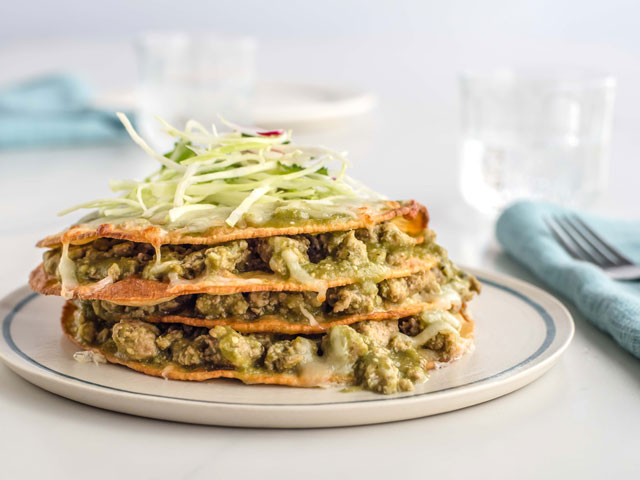 Ingredients
3

lb.

PERDUE® RTC Ground Turkey

¾

c.

olive oil

48

corn tortillas, fried and reserved

4 ½

c.

jack cheese, shredded

3

c.

cabbage, shredded

3

radishes, shaved

3

tbsp.

cilantro leaves

3

chayotes, peeled, sliced ¼"

6

jalapeños

2

lb.

tomatillos

6

garlic cloves

½

c.

corn flour

2 ¼

qt.

chicken broth

1 ½

c.

cilantro sprigs

1 ½

c.

parsley

1

tbsp.

allspice berries, ground

½

tbsp.

cloves, ground

1

tsp.

cumin, ground

Salt, to taste

Freshly-cracked pepper, to taste
Instructions
Preheat broiler.
Bring a medium pot of water to a boil.
Place chayote in boiling water and cook until tender, about 4 minutes. Remove from the water and set aside.
Heat olive oil over medium in a sauce pot. Brown ground turkey until fully cooked. Turn off heat and remove from pot and set aside.
Place jalapeños, tomatillos and garlic in a sheet pan. Place pan under broiler until charred. Place jalapeños and tomatillos in a bowl and wrap with plastic wrap. Once skin softens, remove skin from tomatillos and jalapeños. Remove rib and seeds from jalapeños. Place all into a blender with cooked chayote, cilantro sprigs, parsley, spices and a quarter of the chicken broth. Puree until smooth.
Add the remaining chicken broth and corn flour in a bowl. Puree with a hand blender until smooth. Transfer into the pot where the turkey was cooked. Turn heat on medium and cook while stirring until mixture becomes thick.
Add blended sauce to the cooked corn flour. Stir and cook for 5 minutes over a simmer. Add reserved cooked ground turkey and stir. Season with salt and freshly cracked black pepper to taste.
Plate
Preheat oven to 400°F.
Equally divide turkey meat onto 12 tortillas onto a sheet tray. Sprinkle with jack cheese on top of turkey. Bake in oven until cheese lightly browns.
Assemble turkey stacks with 3 layers of topped tortillas. Then top with 1 fried tortilla shell. Top with a little bit of the sauce from the turkey. Garnish with radish, cabbage, and cilantro leaves.