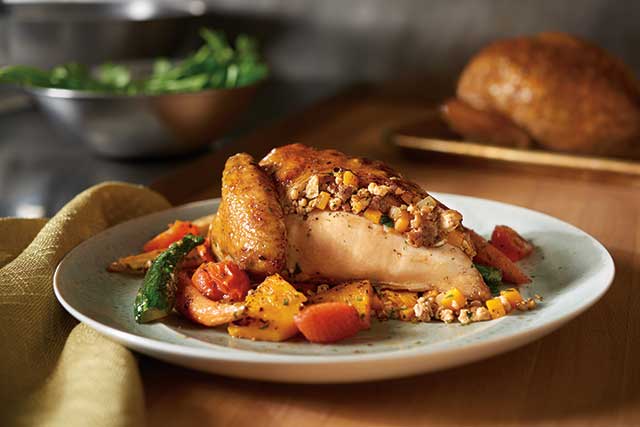 Chorizo-Stuffed Chicken Breast
Ingredients
1

PERDUE® HARVESTLAND® Organic WOG

1

tbsp.

vegetable oil

1

tbsp.

salt & black pepper

1

tbsp.

Chicken Chorizo Stuffing Ingredients

1/4

c.

butternut squash, blanched, finely diced

1/4

c.

apple cider vinegar

1

tbsp.

crushed red pepper

1

tbsp.

paprika

3

tsp.

minced garlic

2

tsp.

salt

1

tsp.

dry oregano leaf

3/4

tsp.

ground black pepper

1/2

tsp.

ground coriander

1/2

tsp.

ground cumin

1/4

tsp.

ground cinnamon
Instructions
Preheat oven to 375ºF.
Remove legs and thighs from whole bird.
Debone the dark meat and skin, place in food processor and pulse to a finely chopped or ground consistency.
Combine mixture from steps 2 and 3 with remaining Chorizo Stuffing ingredients and refrigerate for two hours or more.
Heat a small amount of oil in a skillet over medium-high heat and sauté the chicken chorizo until fully cooked.
Remove from stove and refrigerate.
Gently pry up the skin of the chicken breast. Stuff the chicken with the fully cooked and chilled chorizo.
Use skewers to hold the skin over the chicken chorizo. Prepare the outside of the stuffed breast with a small
Place stuffed chicken breast in oven for one hour or until internal temperature of 165ºF.
Remove from oven, split in half and serve.