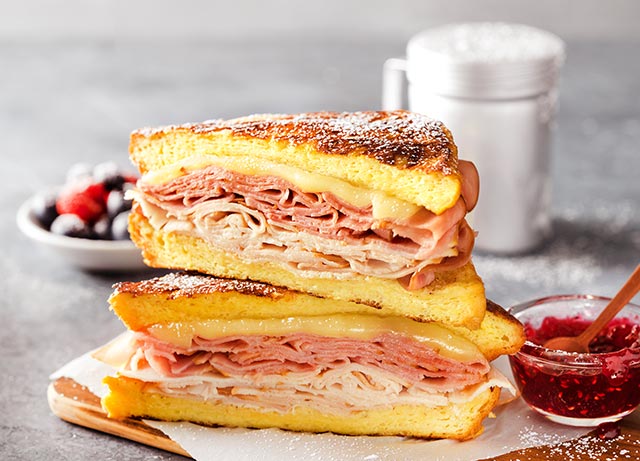 Ingredients
16

slices

Hickory Smoked Turkey Ham

16

slices

Pan Roasted Turkey Breast

1

c.

all-purpose flour

2

tbsp.

sugar

2

tsp.

baking powder

1/4

tsp.

salt

3/4

c.

whole milk

1

egg

8

slices

Swiss cheese

8

slices

sourdough bread

Powdered sugar—

to taste

(optional)

Raspberry compote—

to taste

(optional)
Instructions
Sift together the flour, sugar, baking powder and salt.
Combine milk and egg in separate bowl.
Mix the egg mixture and the dry ingredients until smooth. Set aside.
Assemble sandwiches: Layer 4 slices of ham, 4 slices of turkey and 2 slices of Swiss cheese between 2 pieces of bread.
Place a toothpick in each corner of the sandwich.
Dip the whole sandwich in the batter. Deep fat fry at 340F until golden. Remove from fryer.
Remove the toothpicks and sprinkle with powdered sugar and serve with raspberry compote, if desired. Serve.