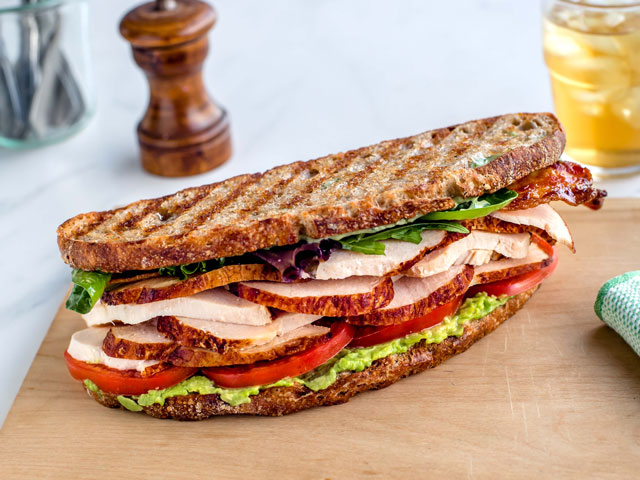 Ingredients
Ingredients for Basil Aioli
3

c.

basil leaves, julienned

12

garlic cloves, minced

12

egg yolks

¾

c.

lemon juice

2

tbsp.

salt

3

c.

extra-virgin olive oil

6

c.

vegetable oil
Ingredients for Sandwich
3

lbs.

PERDUE® FC Golden Brown Skin on Pan Roasted Turkey Breast, hand carved

36

applewood-smoked bacon strips, cooked

12

vine-ripened tomatoes, 3-4 slices each ½" thick

6

avocados, pit removed, skinned and smashed

3

red onions, small, peeled, julienned

3

c.

mixed greens

24

slices sourdough bread, cut about ½" thick
Instructions
Instructions for Basil Aioli
Add egg yolks and minced garlic into food processor and blend.
Combine oils and slowly drizzle into the yolks, making mayonnaise.
Season with lemon juice and salt. Add basil leaves and mix until evenly dispersed. Set aside.
Instructions for Sandwich
Lightly grill sliced bread.
Assemble sandwiches as follows: Spread smashed avocado on grilled bread. Layer with turkey, tomato, bacon and greens. Top with basil aioli.