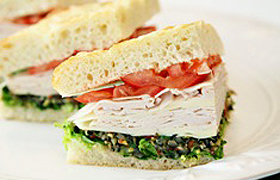 Ingredients
1/3

c.

Green Olives

— pitted and coarsely chopped

1/3

c.

Black olives

— pitted and coarsely chopped

1/8

c.

pimiento

— chopped

1/8

c.

cocktail onions

— drained, chopped

1

clove

garlic

— finely minced

1

tbsp.

Capers

1/8

c.

parsley

— finely chopped

1/4

tsp.

oregano

1/8

tsp.

Black pepper

3

tbsp.

olive oil

1

tsp.

red wine vinegar

12

oz.

Golden Pan Roasted Turkey Breast

1

Large Foccacia bread

1

c.

lettuce

— shredded

8

slices

Provolone cheese

8

slices

tomato
Instructions
For the olive salad, mix the first 11 ingredients together. Cover and allow to marinate overnight, or a minimum of 12 hours.
Cut the Foccacia bread in half horizontally. Cover the bottom of the bread with the shredded lettuce and the olive salad.
Layer the turkey breast and the cheese alternately onto the sandwich. Finish with the tomatoes and the top part of the bread.
Cut sandwich into quarters and serve on a platter one right after the other.