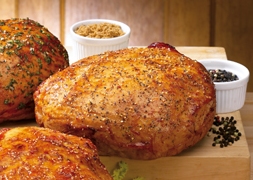 Ingredients
1/2

c.

Apricot preserves

1/4

c.

Honey

1

tbsp.

Sesame oil

1

tbsp.

Sesame seeds

— toasted

1/2

tsp.

Asian five-spice powder

1/4

tsp.

Black pepper

1

Pan Roasted Turkey Breast
Instructions
Sesame Apricot Glaze: In a heavy-duty saucepan, combine all glaze ingredients and bring to a simmer for 3 min. Remove from heat and cool.
Glazed Pan Roasted Baking Instructions: Place a Perdue Pan-Roasted Turkey Breast on wire rack in a roasting pan into a preheated 400°F oven.
After turkey breast has roasted for 10 min., baste and coat with the glaze, using a basting brush, and return to oven. Continue to roast for 25 min.
Remove the turkey from the oven. Baste and coat the turkey breast with the glaze drippings from the bottom of the roasting pan.
Carve and serve hot. Or, place in refrigerator, allowing the turkey to cool to 40°F before slicing and serving for sandwiches and salads.